Pay Bill via TrueiService and Enjoy Free Data
This offer is for postpaid customers who pay TrueMove H bill for the first time via TrueiService application.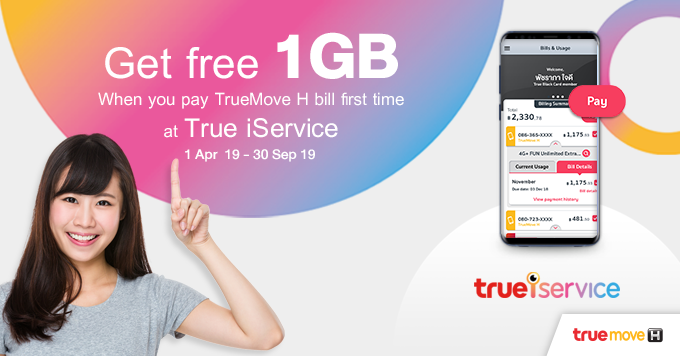 How to Join
This offer is exclusive for TrueMove H customers. You'll get 1GB free data for 14 days when you pay TrueMove H bill first time via TrueiService website and application. The campaign will run from 1 April 2019 – 30 September 2019.
Pay bill to get free internet 1GB.
More about TrueiService app
Manage your TrueiService in one place, with the iService app. If you're a TrueMove H, True Online, True Visions or True Convergence customers, this app will allow you to control your account, check usage, pay bills and much more.
Get started by downloading the app and sign up by using your mobile number or email address.
Things you need to know
1. This promotion is only for TrueMove H Postpaid customers who paid TrueMove H full bill amount on time via TrueiService website or application first time from 1 April 2019 – 30 September 2019.
2. This offer is exclusive for customers who use TrueiService application version 6.1.1 or later.
3. The customer will get confirmation message from TrueMove H within 15 minutes. "แพ็กเกจ ฟรีเน็ต 1GB นาน14วัน ของคุณจะเริ่มใช้งานได้ตั้งแต่วันที่ dd/mm/yyyy เวลา hh:mm:ss ถึงวันที่ dd/mm/yyyy เวลา 23:59:59 ค่ะ ตรวจสอบเน็ตคงเหลือกด *900# โทรออก(ฟรี)"
4. This Promotion is for Postpaid individual customers (non-business) who pay full bill amount within due date via True iService website or application for the first time and receive SMS confirmation.
5. These prizes cannot be exchanged into cash.
6. These prizes are only for customers with active usage and meet the requirements according to company terms and conditions.
7. The company reserves the right to modify, change, or terminate any of the above conditions for this promotion as appropriate. Prior notice of any changes will be communicated in the appropriate communication channel.

Did you know?
You can stop receiving advertisement SMS of this campaign by following instructions provided here. This way, you will no longer receive future promotions or advertisements via SMS from TrueMove H, including spam SMS from other content provider.